Key: G
Form: Mazurka
ABC:
GA|B2 BA GE|DB, D2 B,D|EC E2 CE|
DB, D2 GA|B2 BA GE|DB, D2 B,D|E2 F2 D2|G4:||
GA|B2 B2 dB|cB c2 AF|A2 A2 dc|BA B2 GA|
B2 B2 dB|cB c2 DF|A2 Ac BA|G4: |
MP3:
Download this MP3  If it plays, right-click on the page and "Save as". (Detailed instructions)
Sheet Music: Click image to enlarge. To download, right-click in enlarged image and "Save as...".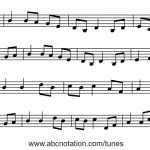 Link (Midi or Youtube):
Source (if known): Traditional
Other Tunes in Set: A great four-mazurka set includes The Irish, Sonny's Mazurka, this tune, and Tommy Peoples' Mazurka.
Region: Ireland
Notes: