Key:  D
Form:  Jig (Bagpipe March?)
ABC: 
|:d>dd d>ef|A>AA B>AA|A>Bd d>BA|A>Bd (e2 c)|
d>dd d>ef|A>AA B>AA|A>Bd e>dB|A>Bd (d2 e): |
|:e>aa f>ed|e>fe d>BA|A>Bd d>BA|A>Bd (e2 f)|
e>aa f>ed|e>fe d>BA|A>Bd e>dB|A>Bd (d2 e): |
|:f>ff (fa>d)|f>ff (fa>A)|A>Bd d>BA|A>Bd (e2 f)|
f>ff (fa>d)|f>ff (fa>A)|A>Bd e>dB|A>Bd (d2 e): |
|:f>dd a>Af|A>fA a>Af|A>Bd d>BA|A>Bd (e2 f)|
f>dd a>Af|A>fA a>Af|A>Bd e>dB|A>Bd (d2 e): |
|:f>dd d>dd|d>dd a>df|A>Bd d>BA|A>Bd (e2 f)|
f>dd d>dd|d>dd a>df|A>Bd e>dB|A>Bd (d2 e): |
|:f>dd d>ff|d>aa d>ff|A>Bd d>BA|A>Bd (e2 f)|
f>dd d>ff|d>aa d>ff|A>Bd e>dB|A>Bd (d2 e): |
MP3: Do you play this tune? Please contribute a non-copyrighted sound file (iPhone recording or equivalent) for this tune using the Suggestion Form.
Link (Midi or Youtube*):
Sheet Music: Click image to enlarge. To download, right-click in enlarged image and "Save as...".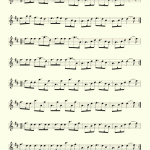 Source (if known): ?
Other Tunes in Set:

Region: Scotland
*Notes:  A great six-part march. View the YouTube.  It's rather wonderful.

fave